Honshu Boshin Katana - Modern Tactical Samurai / Ninja Sword - Hand Forged 1060 Carbon Steel - Full Tang, Fully Functional, Battle Ready - Black TPR, Steel Guard, Pommel, Lanyard Hole - Full Tang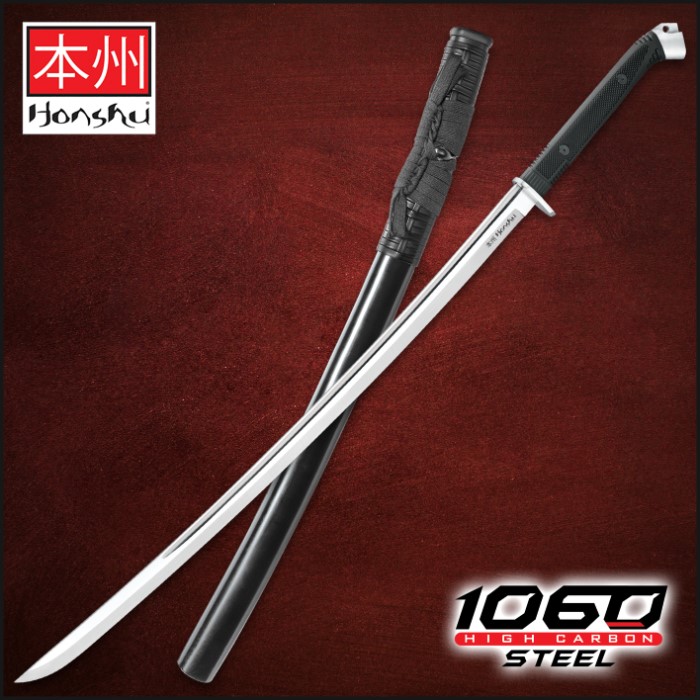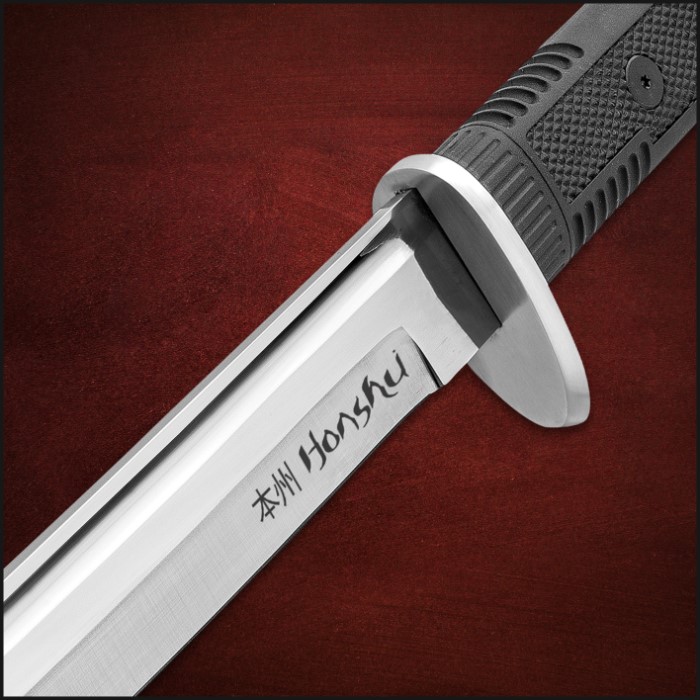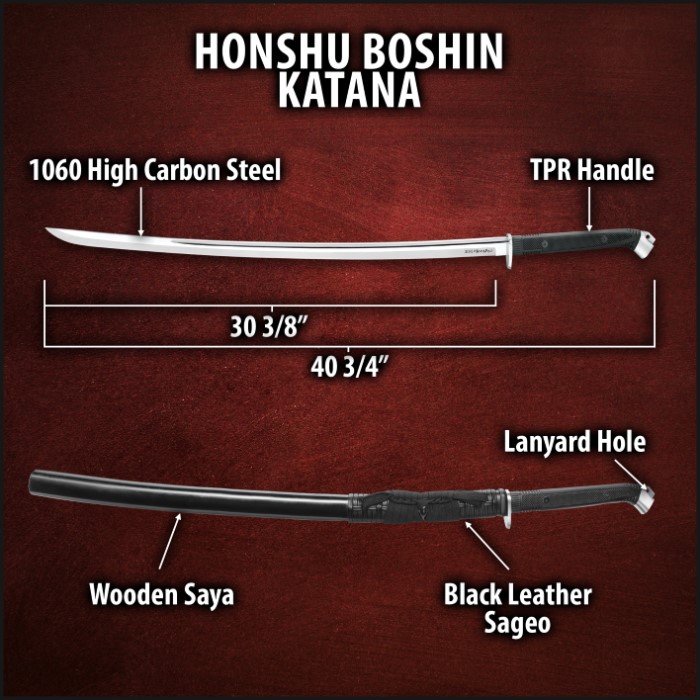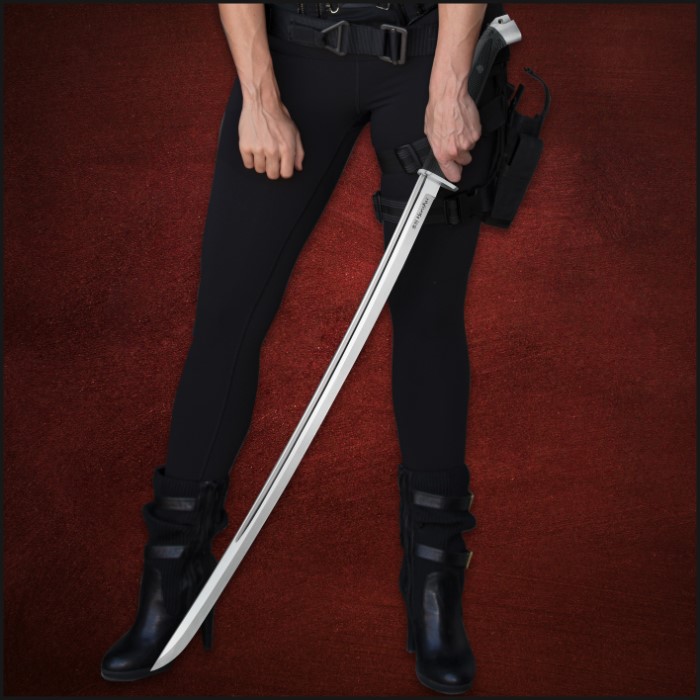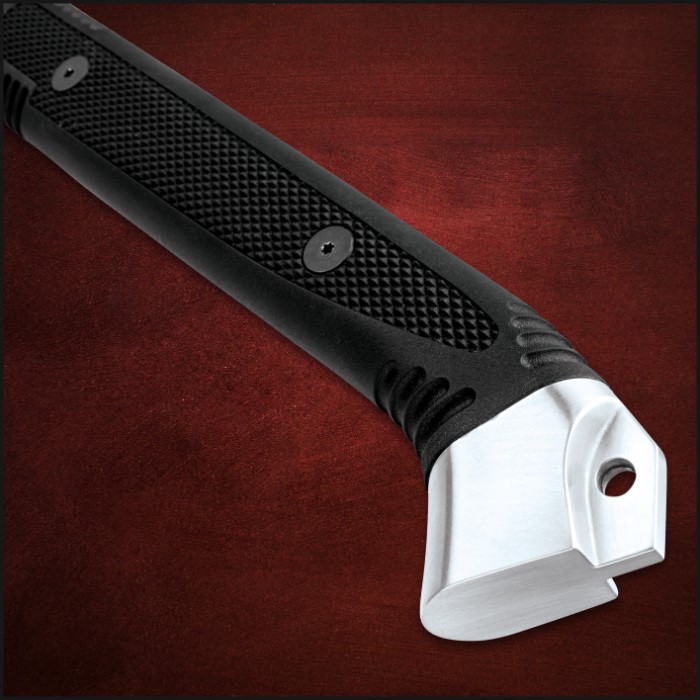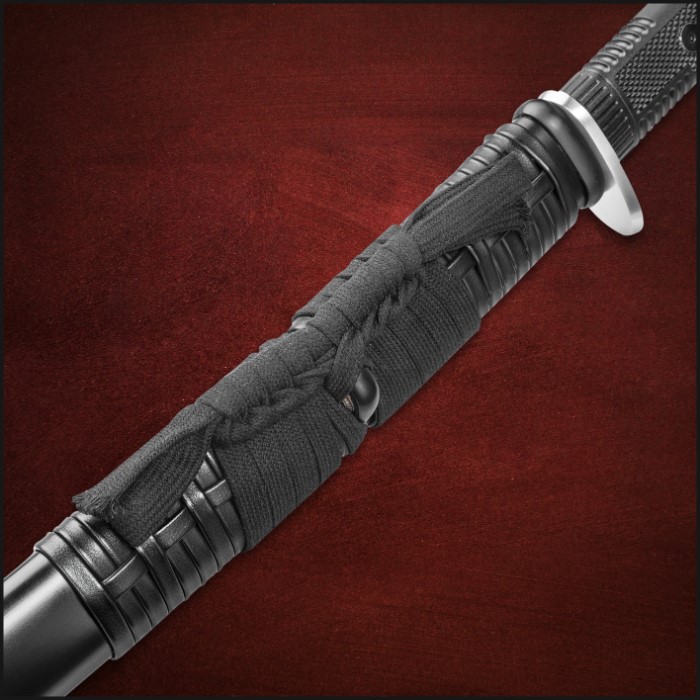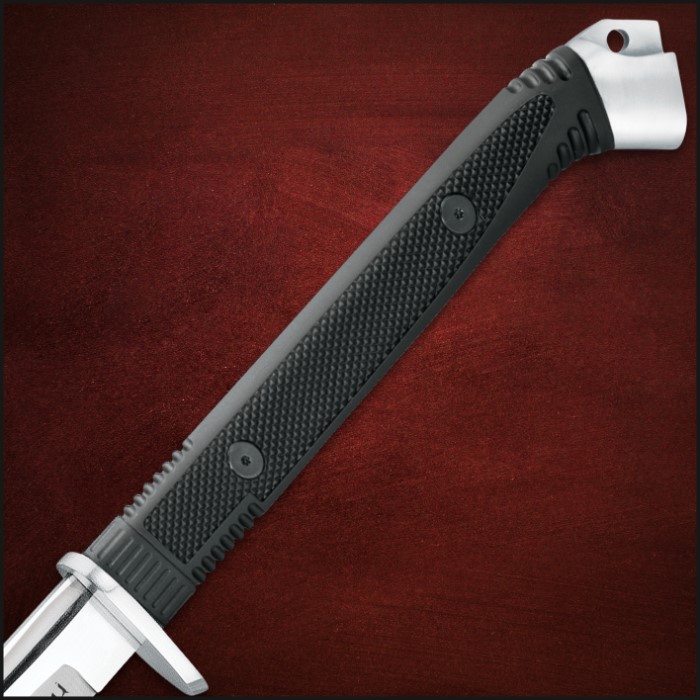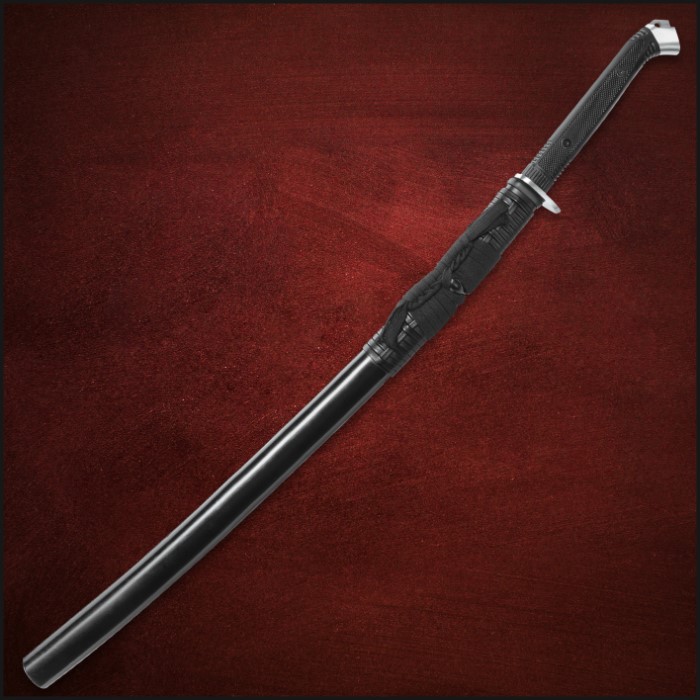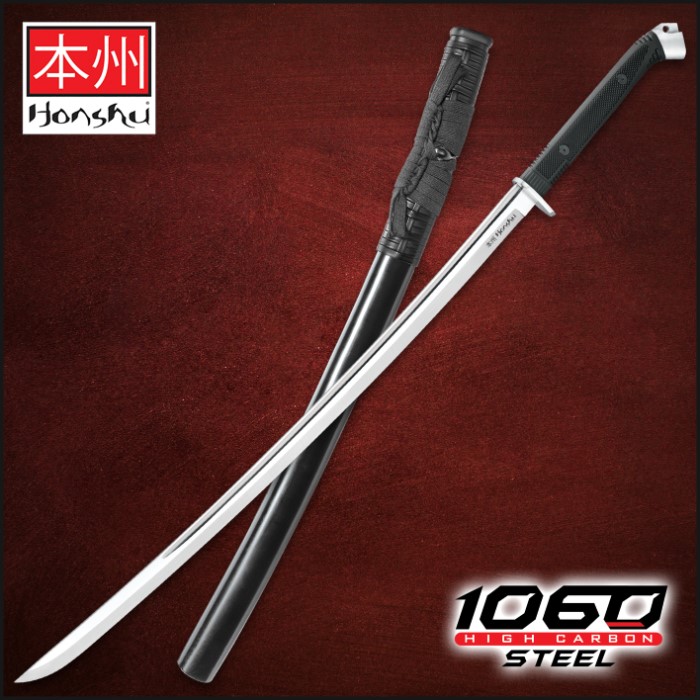 46 UC3176
&nbsp
5
(
13
reviews)
Fast and Accurate Order Processing
We offer standard, 3 day express, 2 day express, and overnight express shipping options for your convenience. If you place your order Monday - Friday by 2:00 PM EST using one of our express shipping options, your order will be processed and shipped the same day it is placed!
Applies to delivery within the 48 contiguous states only.
21st century katana - legendary Japanese sword variety updated with sleek contemporary style and bold tactical appointments
30 3/8" full tang 1060 high carbon steel blade 1060 high carbon steel blade designed for serious, real-world use and the rigors of modern combat
Retains sharp edge even after slicing cleanly through a cinder block or other punishing cutting challenges
Rugged TPR handle - clean, functional design; textured no-slip grip; ergonomic contours boost comfort, reduce fatigue
Offset elliptical guard and angled pommel with lanyard hole for tethering; both satin-finished stainless steel
Tough wooden saya beautifully complements sword; accented with black leather sageo
Overall length: 40 3/4" - the quintessential full-sized Japanese sword
---
Distinctly modern sword with an ancient soul Boshin retains legendary katana sharpness, adds state-of-the-art upgrades
The Boshin Katana epitomizes Honshu's celebrated knack for fusing tradition and innovation into masterworks of modern sword design and engineering. True to the legendary Japanese katana's roots, the Boshin boasts a 30 3/8" full-tang blade that is simply unrivaled in sharpness and durability. Swordsmiths and scholars have long deemed the storied katana the sharpest weapon on the planet, and, fittingly, no edge on any sword, anywhere can contend with the shear cutting and cleaving clout of the Boshin's impossibly sharp 1060 high carbon steel blade. It can literally slice through a cinder block like a hot knife through butter, suffering nary a scratch or fissure. But take one look at the Boshin and it immediately becomes clear - this is no ordinary Katana.

More "black ops" than "black tie" Boshin sheds elegant samurai robes, dons tactical duds tailored to today's warrior
Trading traditional trappings and garb for chic contemporary style and cutting-edge appointments, the innovative Boshin is undeniably a weapon for the modern era. Advanced textured TPR rubber shrouds the tsuka for an ergonomic no-slip grip you just can't get from conventional ray skin and cord. The tsuka is crowned with an oversized polished steel kashira with handy lanyard hole, and the tsuba snubs fanciful ornamentation in favor of a pragmatic asymmetrical pointed ellipse design. Deep blood grooves extend along the sleek, gleaming blade from the base of the tsuba to the outset of the boshi, the blade's placid terminal curve that culminates with the stinging kissaki, or point.

"Saya" love it Sleek, tastefully clean scabbard furthers contemporary vibe
A tough black wooden saya, or scabbard, secures the razor-sharp blade. In keeping with the Boshin's clean, functional aesthetic motif, the satiny smooth saya is largely unembellished, save the handsome black genuine leather sageo. Even among far more expensive swords, United Cutlery's remarkably affordable Honshu Boshin Katana is sure to become the cherished focal point of your collection, admired and coveted by all who lay eyes on it.

Zen and the art of swordcraft Wielding the Boshin is nothing short of surreal
With its fierce cutting potency and sublime feel, wielding this carbon steel masterpiece is almost Zen-like and beyond description; you just have to experience it for yourself! Truly a must-have for longtime Japanese katana aficionados, beginning sword fanciers and everyone in between.
---
Customer Reviews
|
Average Rating: 5.00 out of 5
---
Honshu Boshin Katana
Reviewed by Clifton Gray on Aug 06, 2018
5 out of 5
An unbelevable work of art. Very well made and balanced. After several years in Japan this is the first Katana I was willing to own. Most American made Katanas are made to hang on a wall not use as a working weapon. This is a weapon I will put my trust in.
---
Reviewed by on Aug 02, 2018
5 out of 5
Thus far , thus good ! My blades arrived in good order and weren't bent ! Both the Katana and the Short Sword look like they'll be able to do the work when needed. Nothing rattled and both felt tight and solid when making cuts in the air . Good show ! Gregg. 5 stars here so far !
---
Polishing swords!
Reviewed by on Jun 18, 2018
5 out of 5
Just a shout out about keeping the oxidation off your blades! I have found over the years of maintaining my blades, that two of the best products to use is the great old standby Turtle Wax Rubbing Compound and Turtle Wax Polishing Compound. The polishing compound will leave a very moisture resistant coating that last quite a while. I've also learned thru the years why butchers use a "Butchers Steel" to keep their blade at it's best. They all work for me, but I'm sure most collectors have a preferred MO!
---
Love it!
Reviewed by Roger Link on Mar 17, 2018
5 out of 5
I just got this on Friday after work, this sword is beautiful. The weight is quite nice, and feels strong in the hand. I would reccomend this to anyone who want form as well as function. I love this piece, a great addition to my collection.
---
A Cut Above Many Katana
Reviewed by on Mar 07, 2018
5 out of 5
Lots of swords on the market today (especially at this price range) are made with aesthetics, rather than performance, in mind. Honshu went in the exact opposite direction with this katana, and that's why I love it. It has a forward weighted design that lends itself well to slashing forms, but also retains enough mass in the tsuka for an effective counterbalance. This is in no small part do to the "kashira" style pommel, which makes for a affective blunt force weapon itself. The blade edge is extremely sharp out of the box, and is easy to maintain with a fine grit whetstone and honing steel. My only gripe is that the minimalist style of the tsuba makes it all but impossible to perform an "unlocking" gesture with your thumb. That's a very small grievance for an excellent sword. I highly recommend picking up this katana, and the matching wakizashi and tanto as well.
---
Great Sword
Reviewed by George Wilson on Jan 27, 2018
5 out of 5
I am a knife man. Never had much to do with swords. My room mate saw this sword and the video and she decided to get one. When it came in she took it and loved it the moment she first held it. I held her sword and went to my computer to order mine. First sword I ever owned and love the feel of it. Well balanced and sturdy. The grip feels great and will not slip out of my hand. Also I always heard that swords made any more wll come loose at the handle and can fly off. I don't believe it any more. They do make quality swords and it is this sword. Thanks for carrying it BUDK.
---
Honshu comes through again
Reviewed by Harry Colby on Jan 19, 2018
5 out of 5
A true black ops wakisashi... Well made in the Honshu tradition. Well balanced and durable. The grip is unsurpassed. Honshu never disappoints. Trueswords never disappoints... I'm truly suprised this item wasn't backordered....I'm glad it wasn't... I haven't researched it yet but a tango & katana would truly be a blessing... Very satisfied.... I'll probably get another one for Nito...
---
My best swords yet!
Reviewed by on Oct 08, 2017
5 out of 5
This sword got here in only a week and was a lot more than i was expecting out of it! The blade is razor sharp, the sheath is a perfect mix of old style wood and new innovative plastics, and the handle is long enough to weild with both hands. This is truly a united cutlery classic and im glad to have bought it!
---
Best of the Best
Reviewed by Homero Alvarez del Castillo Jr on Aug 28, 2017
5 out of 5
I got a request from a customer to find this sword for him. Once I got it I realized that not only did my customer know his swords but I had to get one of these for myself. So I now have one mounted on a Honshu Sword Mount in my living room. I also had the pleasure of holding one of these magnificent swords in each hand at the same time, and it is doable. For the price, it is a give-away. So buy yours now before they raise the price.
---
Ready for War
Reviewed by Terrence Woodard on Aug 25, 2017
5 out of 5
Just received my sword today!!!! 5 stars!!!! I am very well pleased!!! You guys should make a series of these ! love it! my first time buying from True Swords, I will be buying again to add to my collection!! 100!!!!
---