Date Published: 2012-10-03
Push Daggers: Then & Now
Push daggers are generally described as a short blade dagger with a "T"-shaped handle design. The shape of the handle makes push daggers convenient to hold between the second and third fingers with the blade pointing outward from the fist. The earliest known forms of push daggers are thought to have originated in India with the development of kataras, or punch daggers, in the mid 16
th
century. Over the years, the concept has evolved to the contemporary designs we see today.
Among the designs found today is the American push dagger, which became well known in the 1800s. Increased numbers of Americans began carrying push daggers as personal defense weapons during this time. Many politicians carried push daggers either clipped on their boot or concealed in their coats to protect themselves from angry protesters and disgruntled mobs during times of unrest. Push daggers were often a choice weapon of gamblers and riverboat passengers before the wide development of small, easily concealable handguns, and were especially widely used throughout the Old Southwest in the United States.
Another regional name for the push dagger is the gimlet, or gimlet knife. The city of New Orleans has a strong association with the gimlet, which became very popular there in the mid 1800s. This type of push dagger had a short blade, often approximately 2 inches, with the "T"-shaped handle that we commonly see in most contemporary push daggers. The gimlet push dagger quickly became the weapon of choice in New Orleans. The use of gimlets became so popular, in fact, that crime rates involving such push daggers skyrocketed in the city, which eventually lead to the prohibition of push daggers in the city of New Orleans in the late 1870s.
The World War I and World War II eras also saw a rise in the widespread use of push daggers, this time mostly in combat by soldiers. Particularly in the bloody trenches of WWI, soldiers needed an alternative weapon for hand-to-hand and close combat fighting. The push dagger became a weapon of choice for this purpose, eventually even being issued by the government to combat soldiers. During WWII, the soldiers were again issued push daggers, among other knives and combat weapons.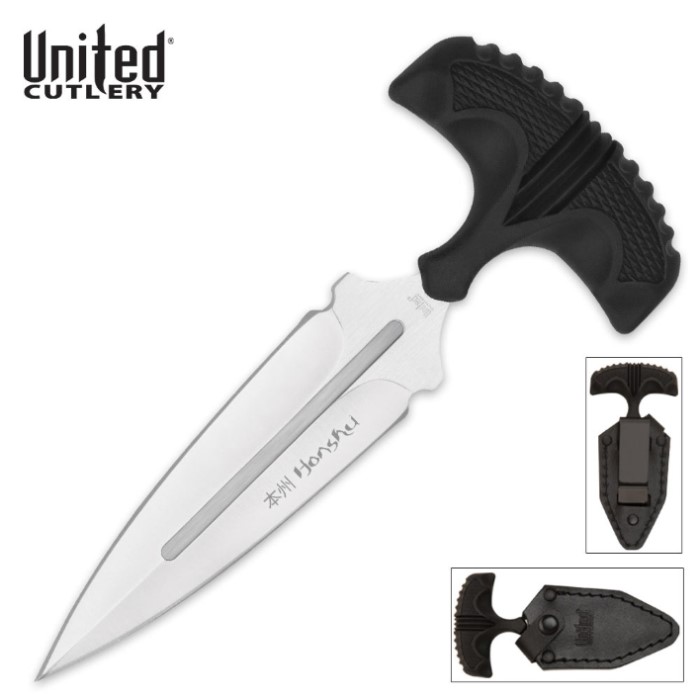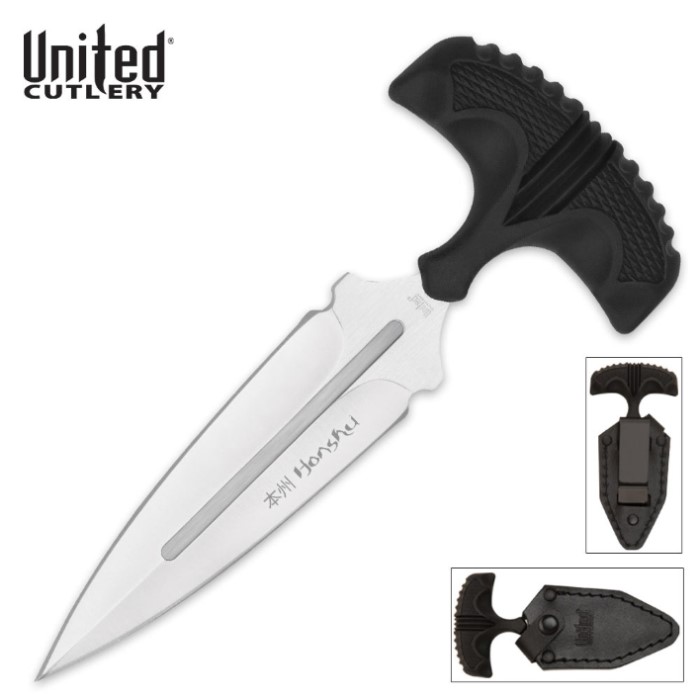 Honshu Push Daggers
BUDK offers a wide variety push daggers in a variety of designs and styles to suit everyone's needs. Among our best-selling push daggers is our Honshu
®
series. Available in large (4" bl., 5 ¾" ov.) or small (2 7/8" bl., 4 5/8" ov.) sizes, each one features one solid piece of AUS-6 stainless steel with a double-edged, razor-sharp blade and piercing point that will devastate virtually any target. Each Honshu
®
push dagger also features a rubberized, contoured grip that will allow you to grasp the push dagger securely and firmly without having to worry about it slipping. These push daggers are built to perform and provide the user with pure thrusting power no matter what the intended target is. These Honshu
®
push daggers are also available with a non-glare, black baked on-finish. Each one includes a black leather sheath with snap button closure and a clip for your belt, pocket, or boot, providing discreet, concealable self-defense right at your fingertips.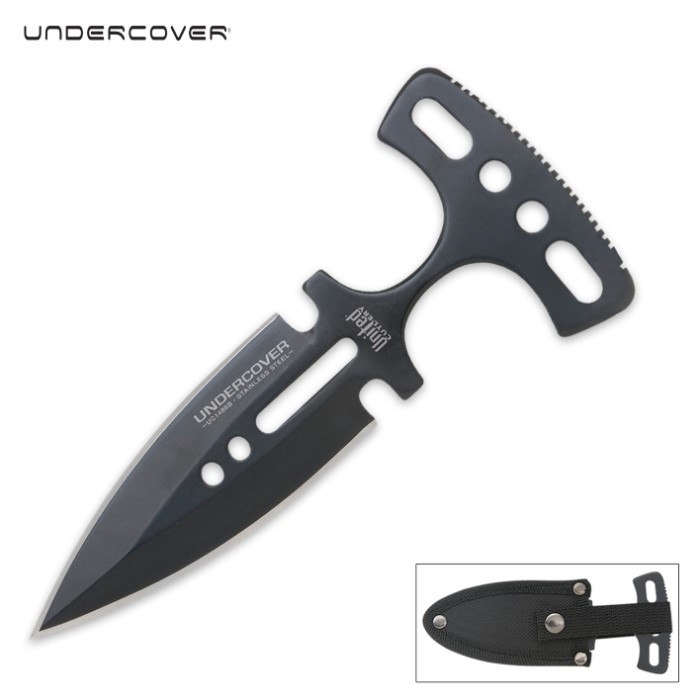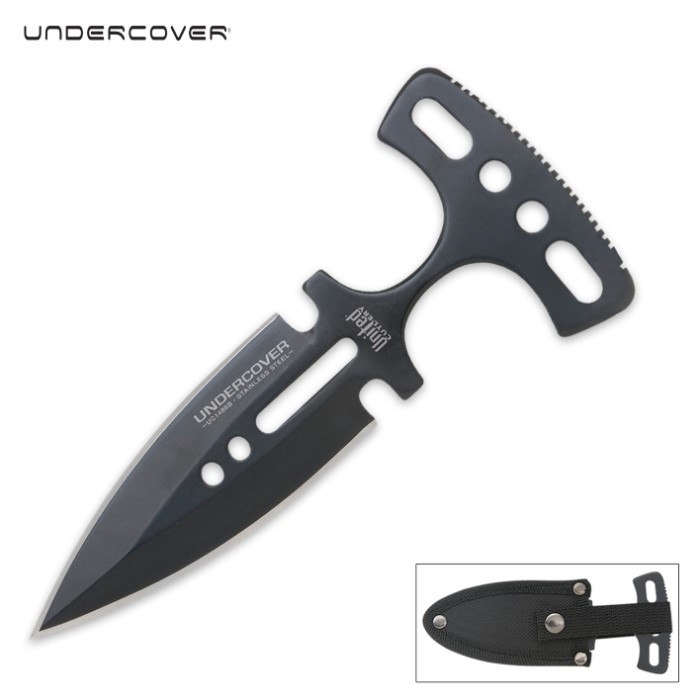 Undercover Push Daggers
nother popular category of push daggers BUDK is proud to offer comes from United
®
Cutlery's Undercover™ series. Each one of these Undercover™ push daggers is crafted of one rock solid piece of cold, hard AUS-6 stainless steel, and features a razor-sharp, double-edged blade. The blade and handle both feature cut-out designs, and the blade is contoured for a sure, secure grip every time you grasp it. The blade may be small at 3 ¼", but it is powerful and will push right through almost anything. At 5 5/8" overall, these push daggers offer easily concealable and discreet carrying options, and include a heavy-duty nylon sheath for convenient storage and transport.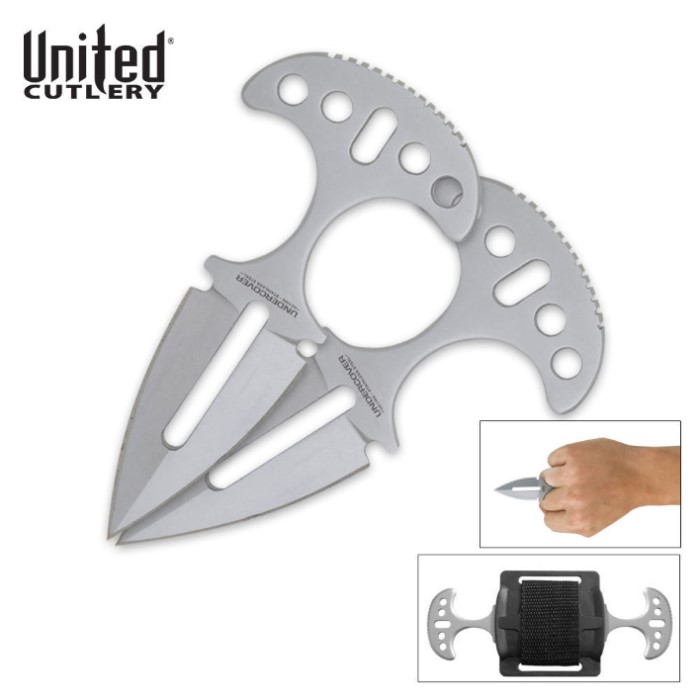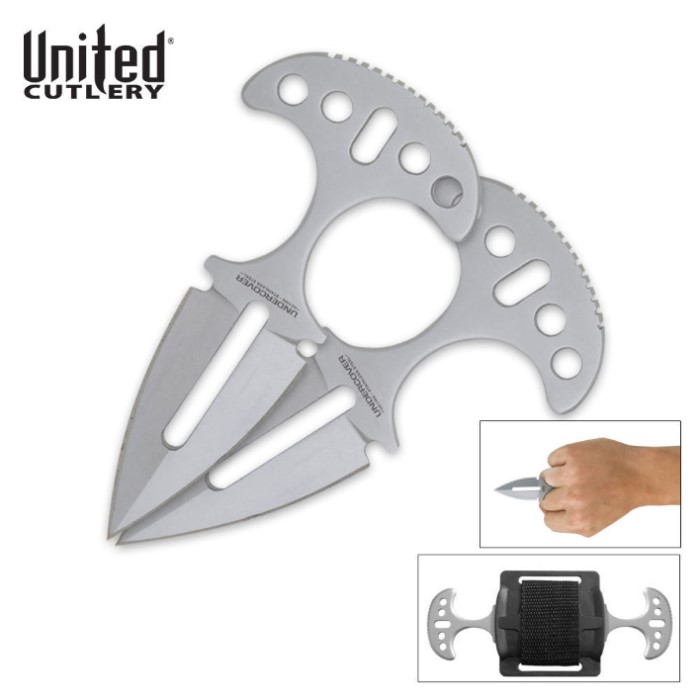 Undercover Twin Push Dagger Sets
If you want to double down on something, check out our Undercover™ twin push dagger setsfrom United
®
Cutlery. These will make the ultimate push dagger set in your collection! They offer twice the protection at an unbeatable price point for two blades. Each one of these push daggers features all 420J2 stainless construction with razor-sharp, double-edge 2" blades (3 ¾" ov.). The piercing point will devastate practically any target. The adjustable impact-resistant sheath is equipped with nylon arm/leg strap with Velcro closure, so you have a variety of ways to wear or carry these push daggers. Available in silver or black-coated finish.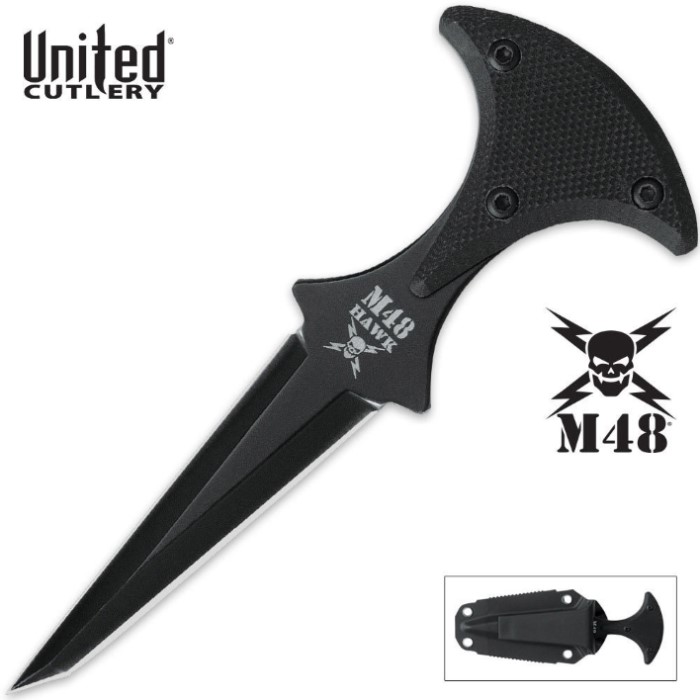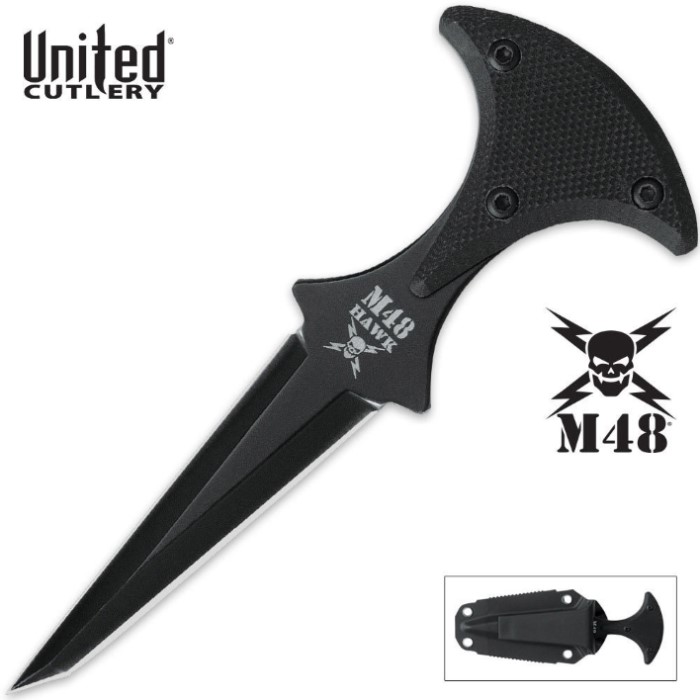 M48 Kommando Push Daggers Utilizing an alternative design is our M48® tactical push dagger from United® Cutlery. Rather than the more common "T"-shaped handle, this M48® push dagger's design incorporates a distinctive handle shape more like that of a traditional dagger. It is designed to be braced against the palm like a traditional push dagger and guided by the index finger for increased accuracy and thrusting power. The razor-sharp, double-edged blade is crafted of solid, black-coated AUS-6 stainless steel and features a piercing tanto point. The textured G-10 handle is contoured to fit comfortably and securely in your hand, however you choose to wield it. The injection-molded nylon sheath has a clip and is very convenient for carrying and concealing this push dagger. Available in large (2 ½" bl., 5 ¾" ov.) and small (2 ¼" bl., 4" ov.).

Shop All Push Daggers Here
Realated Products