Date Published: 2012-10-04
Choosing the Perfect Karambit
The karambit or kerambit, as it is sometimes spelled, is a unique, curved hand blade that originated centuries ago in Indonesia. Originally found in Java, karambits, according to ancient folklore, were inspired by the large, curved claws of the once populous Indian tigers who freely roamed and once dominated the region. As commonly found with many ancient forms of weaponry, the karambit traces its humble beginnings to use as an agricultural tool used mostly by peasants of the day in farming, raking, pulling roots, and growing rice. As it evolved into a form of mainstream weaponry in the region, the design became more curved, and through India's trading practices, quickly spread throughout neighboring lands to Cambodia, Laos, Malaysia, Myanmar (Burma), the Phillipines, and Thailand, eventually making its way to Europe. Today, karambits are commonly used in Filipino and other martial arts forms, as well as for effective but discreet self-defense. Whether you are interested in martial arts or simply need an easily concealable, discreet weapon, our modern interpretations of the ancient karambit cover all price points and each one will answer when you call!


United Cutlery Honshu Karambits
These high-end Honshu karambits from United Cultery both feature a razor-sharp 4" 7CR13 stainless steel blade in your choice of traditional silver or baked-on black finish. The silver version includes a discreet boot sheath, and the black version includes a handy shoulder harness. In either case, the karambit is only a quick reach away when you need to access it.Both carrying options provide convenient, discreet carry with easy accessibility. Each karambit's blade features a wicked curve with a razor-sharp edge and piercing tip. The rubberized, over-molded handles have an open-hole pommel, and give you a secure, confident grip every time. At 8 ¾" overall, these kerambits will prove to be effective self-defense instruments.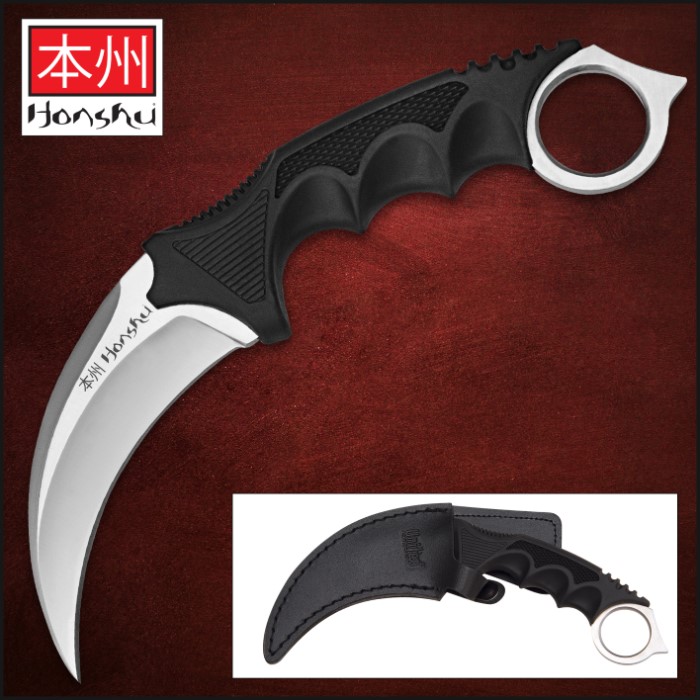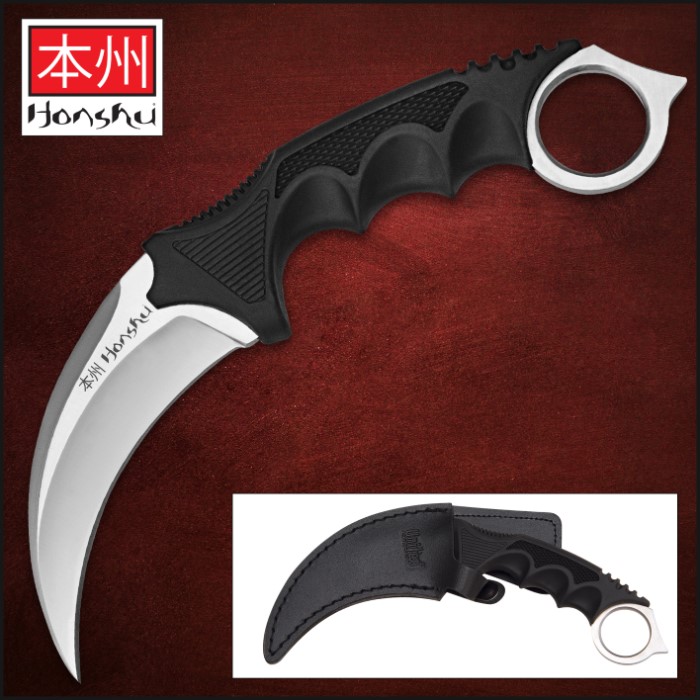 United Cutlery Undercover Karambits
If you're looking for the same style blade but on a slightly smaller level, check out the Undercover™ series, also from United Cutlery
®
. At 6 ½" overall, these karambits provide the same functionality and utility as their larger Honshu™ relatives but on a slightly smaller and more compact scale. Still crafted of one solid, full-tang piece of stainless steel in either silver or baked-on black finish, these karambits have a cut-out designed, non-covered handle. Finger holes provide a strong, commanding grip when you wield these blades. Speaking of blades, these karambits feature razor-sharp, double-edged blades—that's right, double-edged blades!
Whether you are an undercover agent, modern ninja, or simply desire an undercover personal defense accessory, these Undercover™ karambits fit the bill and will do some serious damage. Both include a hard, impact-resistant ABS storage sheath that you can easily and conveniently clip on your person for quick access.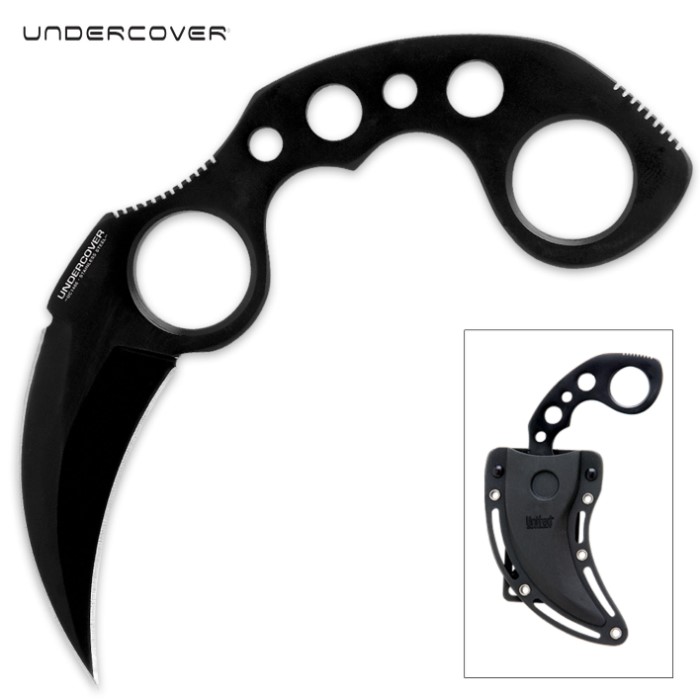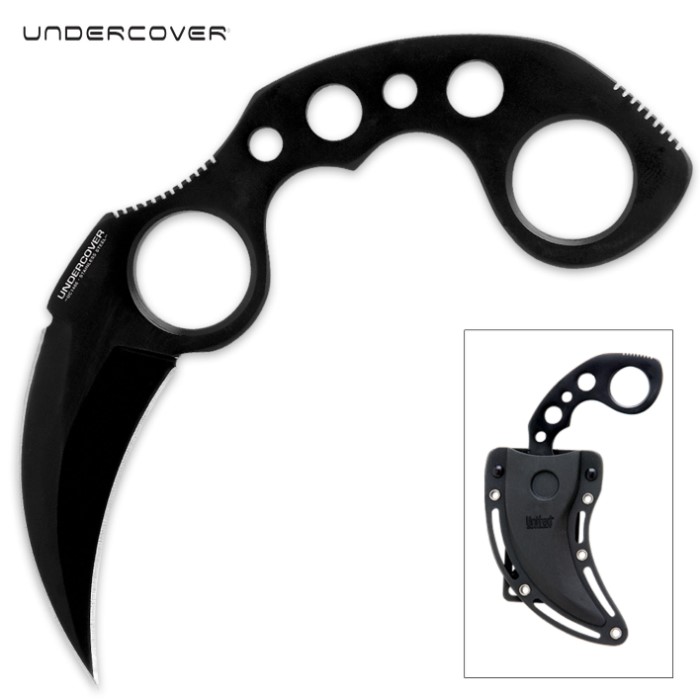 United Cutlery Undercover Sonic Karambits
If the design of the original Undercover™ karambits doesn't quite suit what you you're looking for, then these updated Undercover™ Sonic karambits, also from United Cutlery
®
, will definitely meet your needs! Again, the Sonic series features a cut-out design, exposed tang handle, and all-stainless construction with your choice of silver or a black baked-on finish. At 5 ½" overall, these karambits still get the job done. With a razor-sharp blade and ergonomic handle that features finger slots for an unbeatable grip, you can wield these bad boys with sonic speed and precision. They are housed neatly and discreetly in their adjustable, injection-molded ABS sheath. The sheath conveniently includes an Allen wrench for quick adjustments to suit your needs in any situation.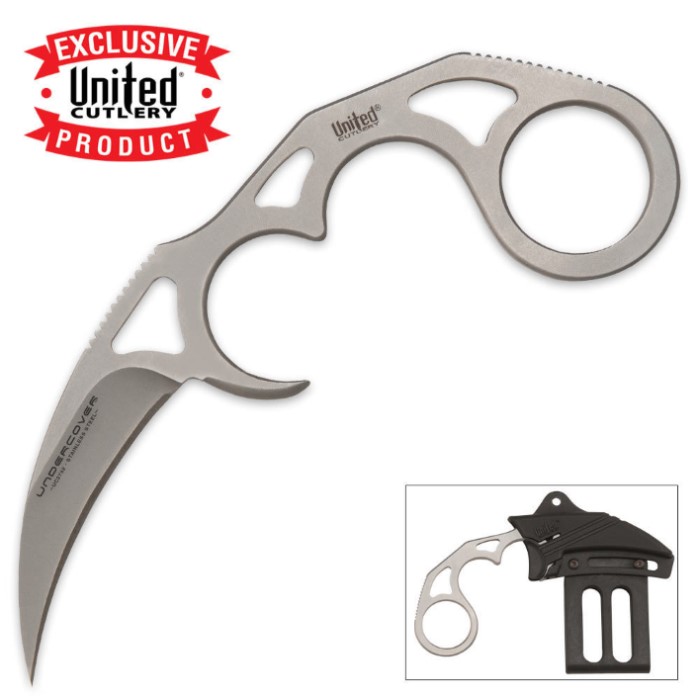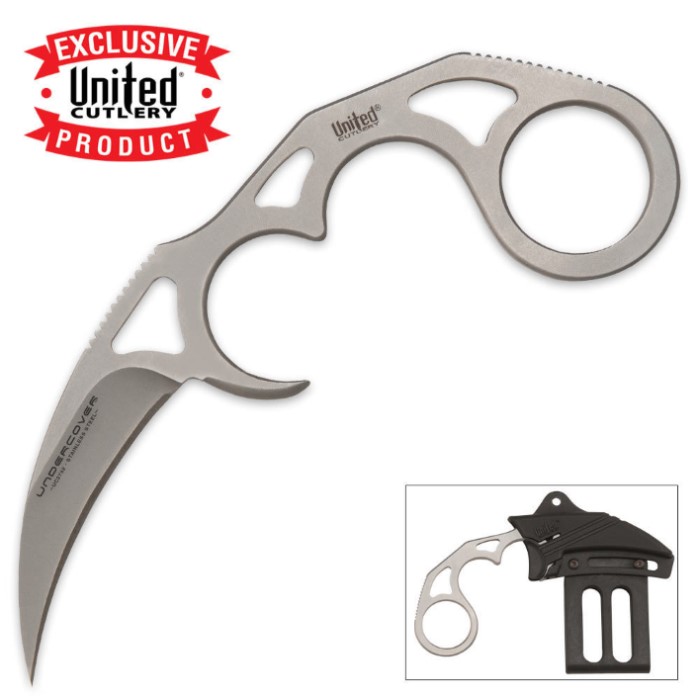 Shop All Karambits Here
Realated Products