Date Published: 2012-10-17
Replica Helmets for Collectors and Re-enactors Alike
Armored helmets were manufactured in Japan as early as the 4th century. Designed to protect the head from damage usually during combat or a potentially dangerous environment, helmets have been used for protection for several centuries, even to present day in militaries. BudK offers many different replica helmets from numerous time periods, constructed with the same attention to detail as the originals.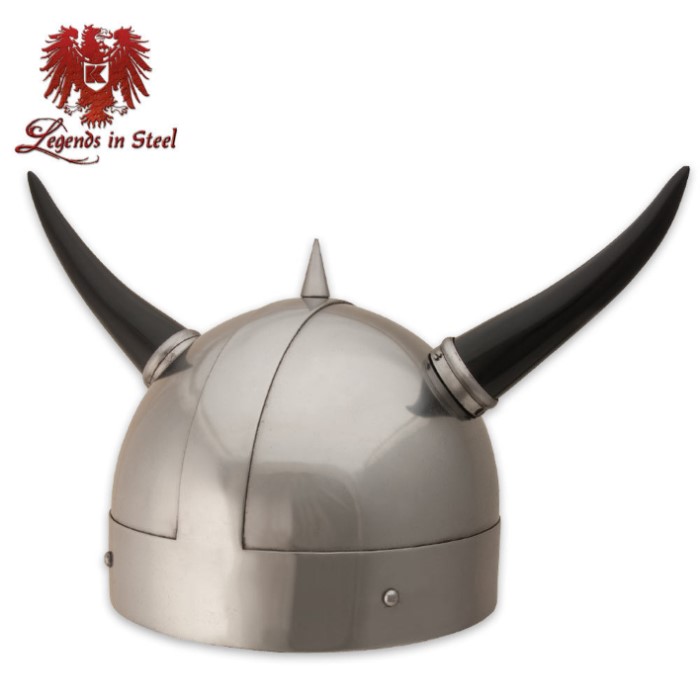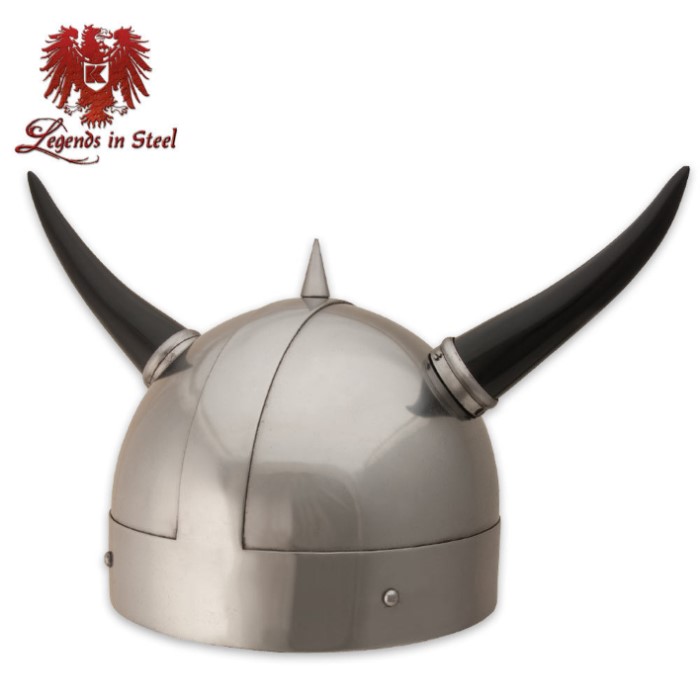 The Viking helmet dates back to Europe in the 8th – 11th centuries. The most prestigious thing for a man during this time period was to participate in war. Intricate, beautifully crafted helmets and armor were ways for a warrior to display his wealth and status. This replica Viking War helmet is handcrafted with high quality, just like an original helmet would be. It is constructed of heavy gauge carbon steel with a spike and ABS horns. The inside of this helm offers cushioning so that it can be worn comfortably.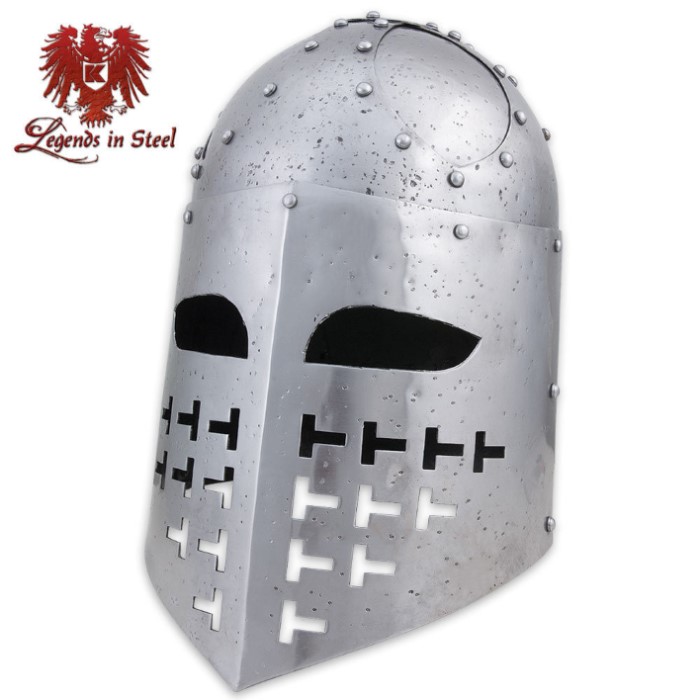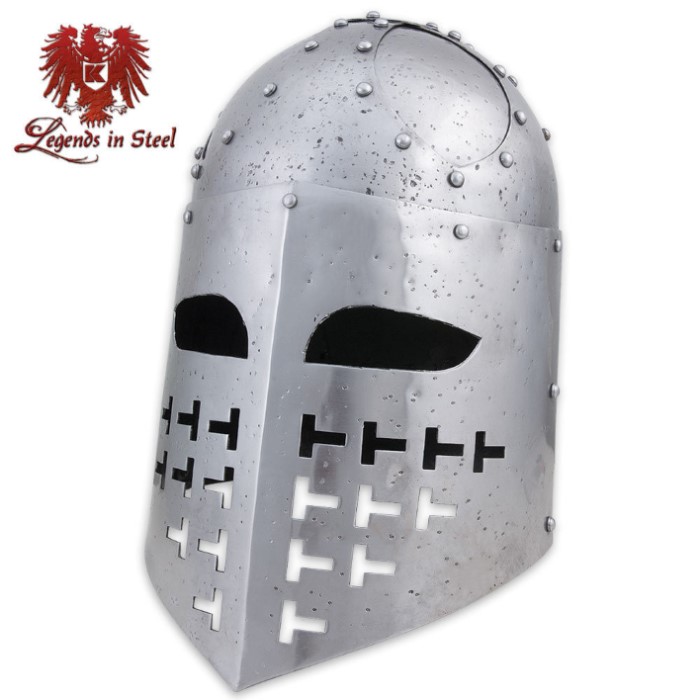 The Spagenhelm was a popular helmet during the Middle Ages. Spagenhelms usually included nose protectors and cheek flaps to protect the face and some included eye protection. The Spagenhelm was easy to produce and effective. Eventually it was replaced with similar shaped helmets because the Spagenhelm's jointed construction and partial head protection were weak in battle. BudK's replica Spagenhelm Great Helmet is constructed of antiqued stainless steel to replicate battle damage for character you won't find anywhere else!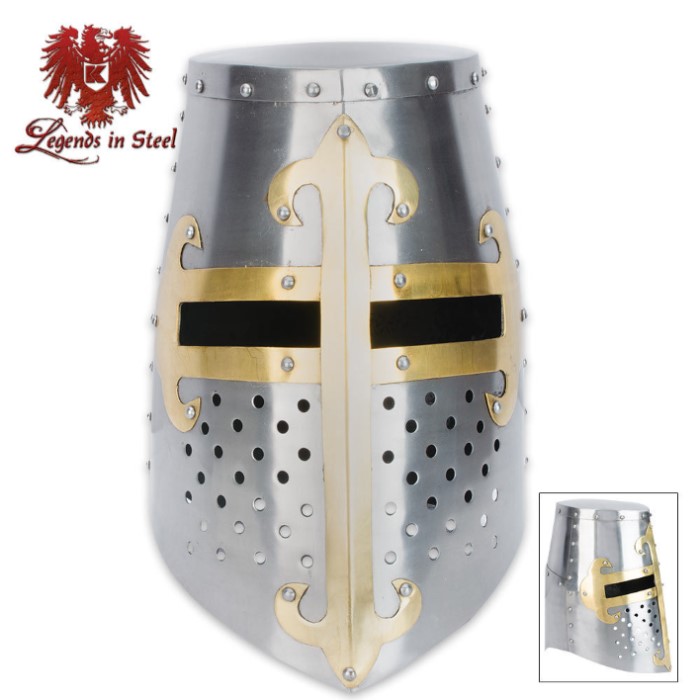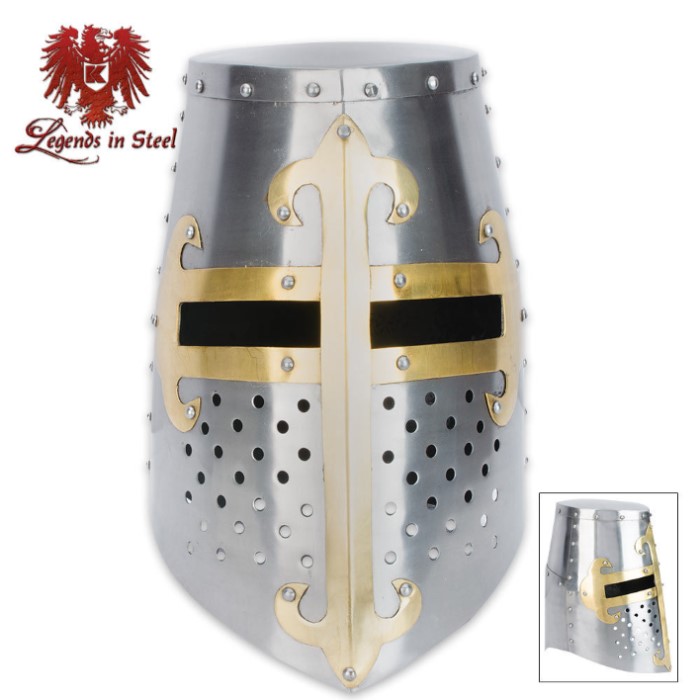 During the High Middle Ages in the 12th century, the great helm, otherwise known as the Crusader helmet, arose. The great helm was used by knights and heavy infantry in European armies up until the fourteenth century. The great helm offered superior protection even though it was heavy and limited the wearer's peripheral vision. BudK's replica Crusader Helmet is constructed of heavy gauge carbon steel with handcrafted details and brass fittings. This helmet also features a cushioning cloth arming cap for comfort.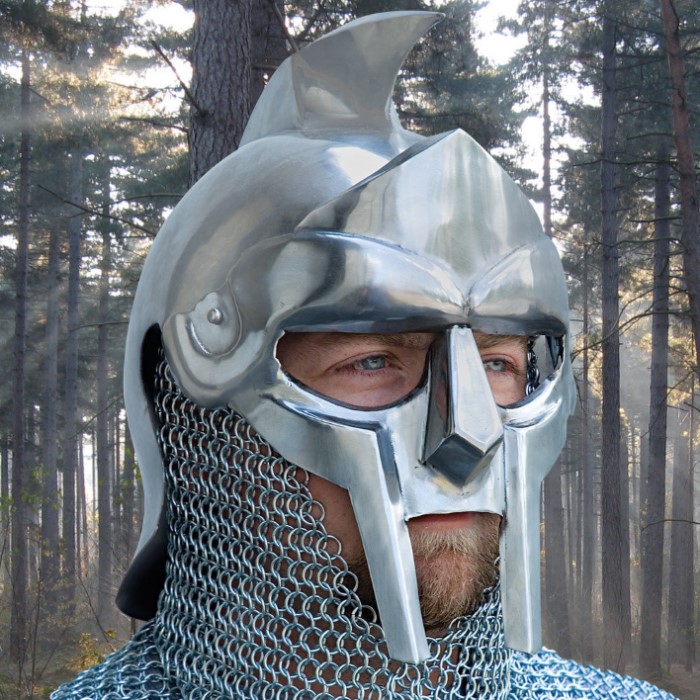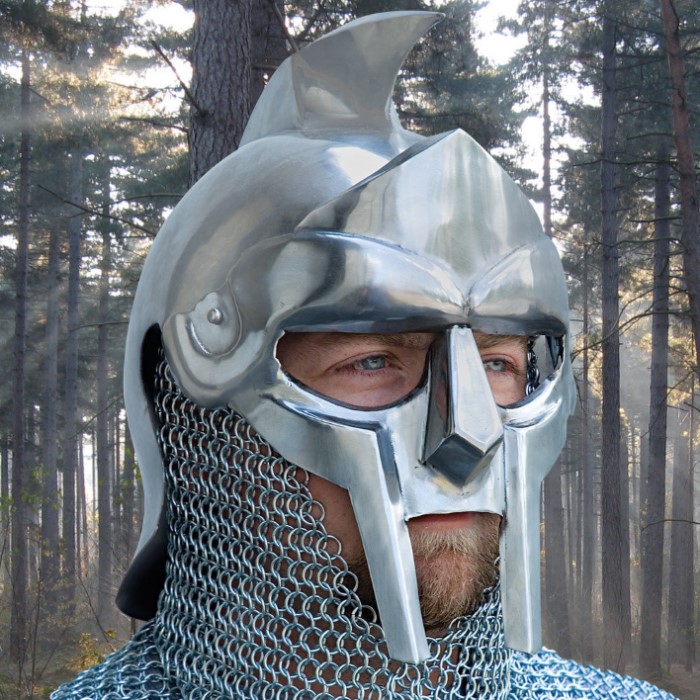 The Gladiator helmet provided more intimidation than protection. Gladiator helmets featured full visors and protected the head and nose, but the throat and neck were visible and susceptible to blows from the enemy. BudK's replica Gladiator helmet is constructed of high quality, 18-gauge carbon steel that is lightweight so that it can easily be worn. This sleek helmet is sure to intimidate anyone!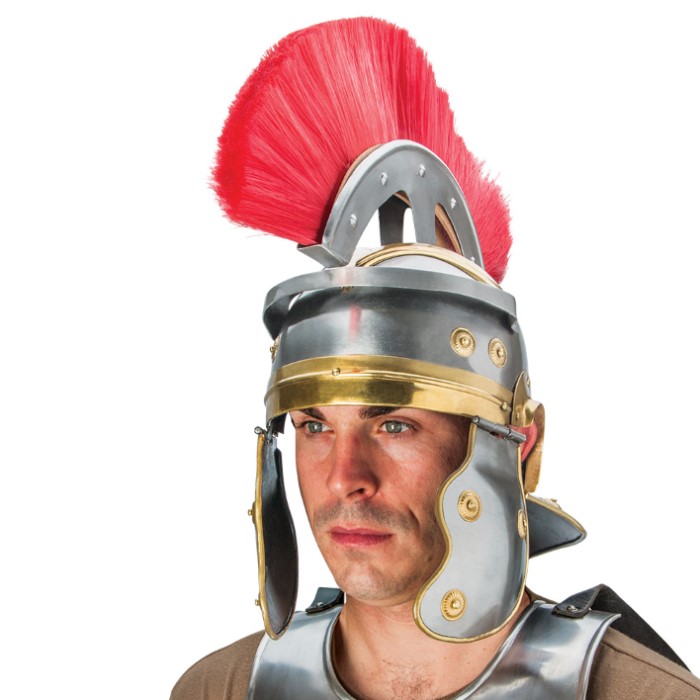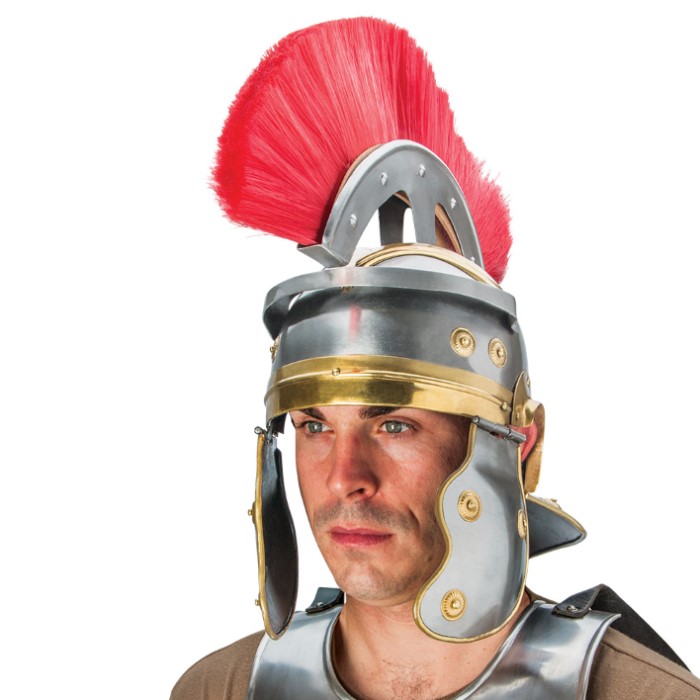 Roman professional officers were referred to as centurions. Centurions were established leaders who had earned respect on the battlefield. The helmets worn by centurions were often referred to as galeas. This helmet was designed with a red plume to separate the centurion from his soldiers. BudK's replica Centurion helmet is constructed of heavy gauge carbon steel with brass fittings and accents. The bright red plume makes this piece stand out from all of the rest. This helmet can easily be used for reenactment or for display.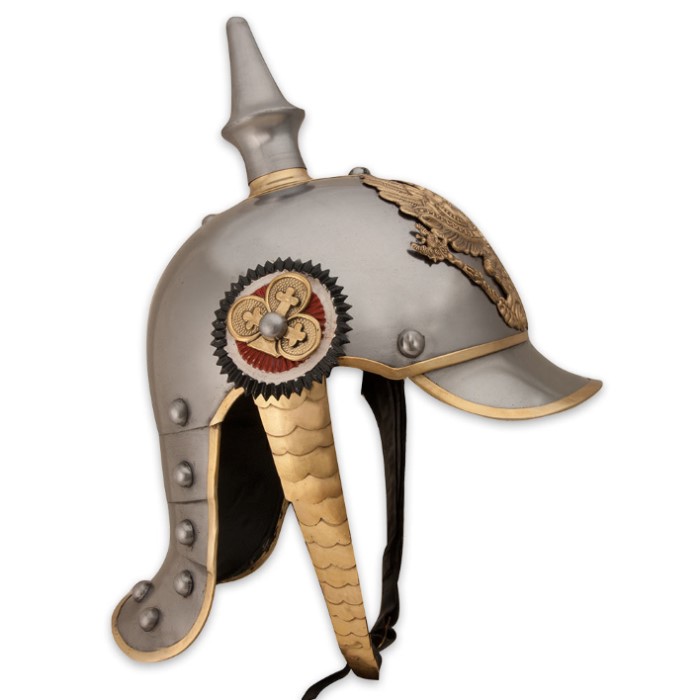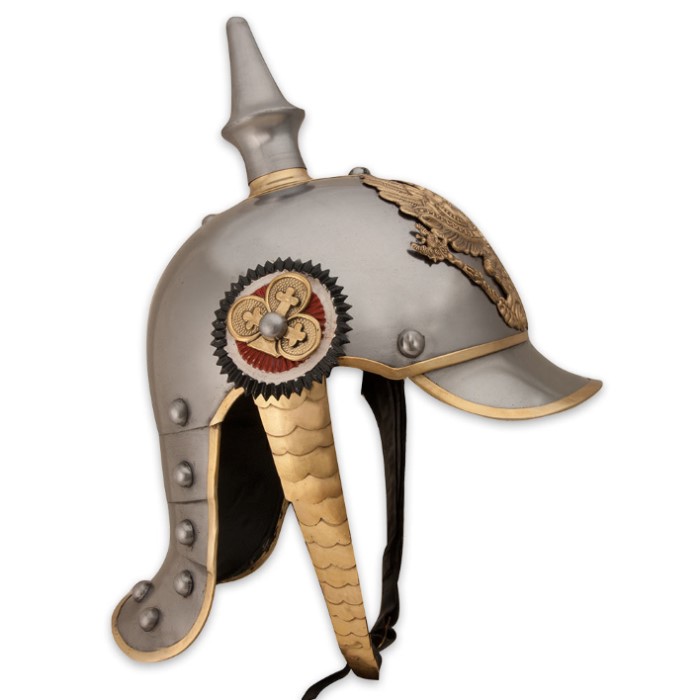 The pickelhaube helmet was one that was designed in 1842 by King Frederick William IV of Prussia. Over the years the pickelhaube underwent several changes. In 1915, some pickelhaube helmets were constructed of thin sheet metal. During the early part of World War I, it was realized that the pickelhaube did not measure up to the demands of war. The shortcomings of the helmet led to the simplified model 1915 helmet, with a detachable spike. Eventually the helmet was limited to just ceremonial wear, away from war zones. BudK's replica German Pickelhaube helmet is constructed of heavy 18-gauge mild steel. This helmet features intricate Prussian insignia as well as a spike, chin scales and a steel bowel with a lobster tail neck plate. The full-liner and chinstrap are each painted with authentic color and make this helmet one to grab!


There are many more helmet replicas from various time periods available at www.budk.com.
Shop All Chainmail & Medieval Armor Here
Realated Products