Date Published: 2015-06-02
What the Heck is a Karambit?
By Adelia Ladson


The karambit comes from Southeast Asia, where legend holds that it was inspired by the claws of big cats. It was used as a farming tool in the region by the peasant class but, eventually, was used as a weapon. (As all pointy objects usually are.) In Indonesia, it was considered a peasant's weapon but soldiers would use it as their last resort when their other weapons were lost. A point of interest is that it became popular with women as a self-defense weapon. They would tie it into their hair.


Demonstration of the correct way to hold a karambit.
Demonstration of the correct way to hold a karambit.
The blade's curved design was meant to work as a tool for a variety of jobs. The safety ring allowed the user to work at uncomfortable angles (like hanging upside down) with ease and still retain a secure grip on the
knife
. In combat, the safety ring allowed the soldier to keep a tight hold on his weapon instead of being disarmed by an opponent. The karambit was extremely versatile in many combat situations whether defensive or offensive.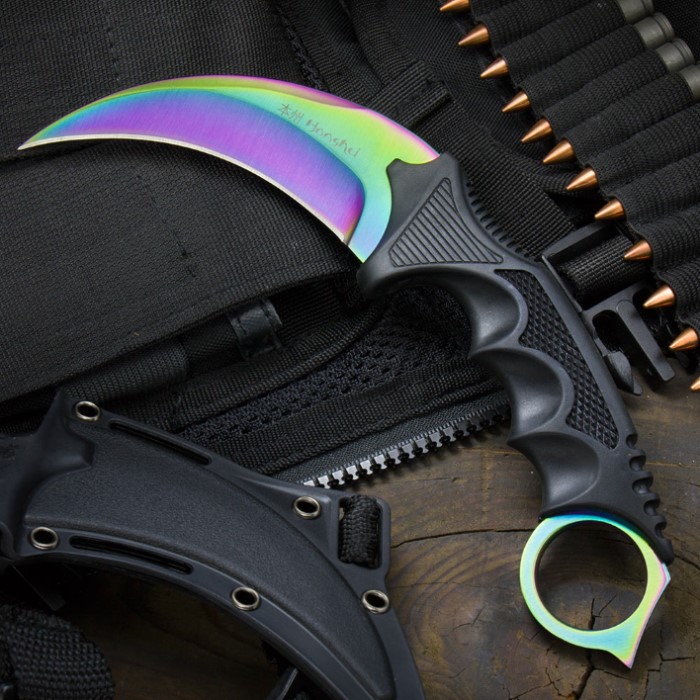 Modern karambits are little more flashier.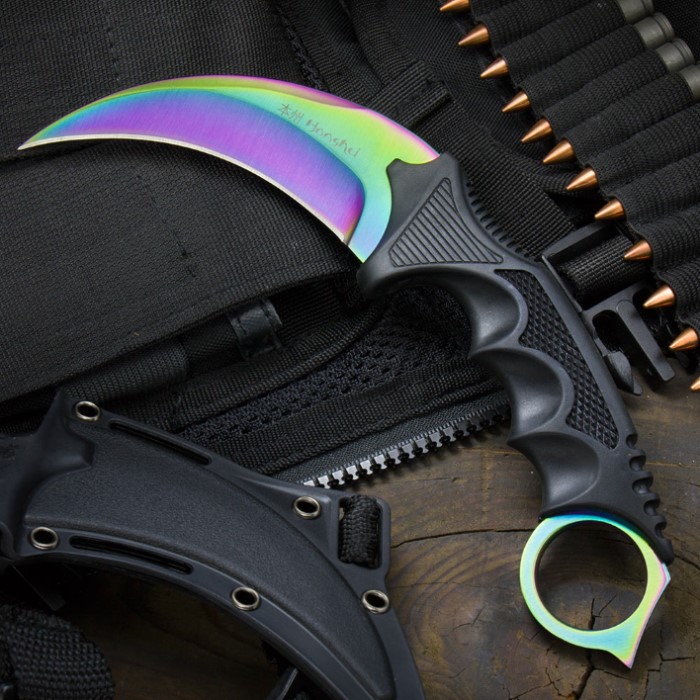 Modern karambits are little more flashier.
Eventually, the karambit found its way into martial arts, especially, Filipino martial arts. The Filipino karambit is shorter than its forefathers and has become popular in the West because of its value as a self-defense weapon. Western companies have taken the original design of this former farm tool and given it a folding blade option. I find this appropriate because when I think of a folding knife, I think, "everyday carry." The karambit was the "everyday carry" knife for peasants in ancient Southeast Asia.
So, if you are looking for an exotic looking "everyday carry" do consider getting a folding karambit or a fixed-blade karambit. I can be useful for a variety of jobs like gutting and cleaning fish, cutting rope or even light pruning in your yard. As far as aesthetics, the modern karambit has come a long way from its humble roots. You can find them in a slew of colors and a little artistic license, in design, has been taken with some of them. I have even seen them with two assisted opening blades. But the centuries old basic design of the curved blade coming from an ergonomic (the ancient folks were ergonomically correct before the word "ergonomic" even existed) handle with a finger guard has not changed in all of the modern versions. Just take your pick. "Something for everyone," as they say.



Shop All Karambits Here
Realated Products